CONSTRUCTION OF APRONS AND QUAYS AT THE AUGUSTA HARBOUR, LOTS 1 AND 2 (Sicily)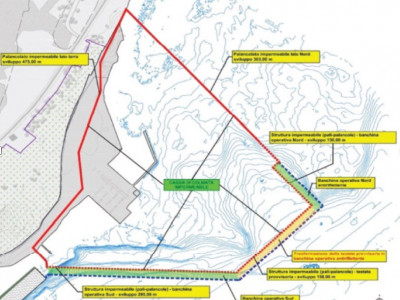 Construction of aprons and quays at the Augusta harbour, lots 1 and 2.
The construction of these infrastructures will facilitate the use of the existing docks, enhancing their potential. The contract includes:
Construction of a sediment tank delimited by sheet piles waterproof walls (with and without tie rods) and by a combined double wall (Combi-Wall); docks width is among 20.25 e 21.30 m, and they are supported by 1500mm concrete bored piles (6 m interaxis)
Filling of sediment tank with borrowpit material;
Approximately 110,000 sm concrete paving for containers handling apron;
Construction of water, firefighting, electrical and stormwater networks and all equipment necessary to carry out daily harbour operations (bitts, fenders and edge protections).
TECHNICAL SPECIFICATIONS
Employer:
Autorità di Sistema Portuale del Mare di Sicilia Orientale
Works amount:
€ 46.775.847,57
Works start:
November 2019
Works end:
ongoing